#XboxFreeCodeFriday time. Read this and you could win a code for #DeadSpace Digital Deluxe Edition on Xbox Series X|S. REMINDER: One winner will also get the Dead Space Collector's Edition for Xbox. Good luck!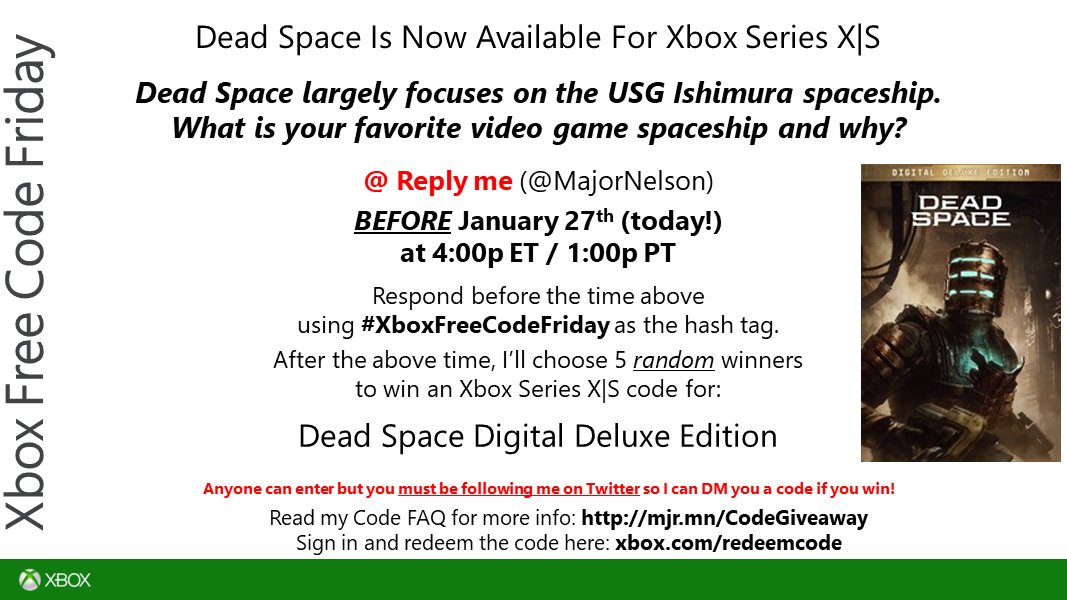 @majornelson My fav VideoGame Spaceship is also from my first video game. The Original Xbox, Halo, The Pillar of Autumn. Just the memories as a kid the first time I seen that ship and watching it crash down. then racing across it at the end. Will never forget it. #XboxFreeCodeFriday
@majornelson It would have to be is the Normandy! Such an amazing spaceship in the Mass Effect series has been the starship I would love to ride! #xboxfreecodefriday
@majornelson Favorite ship goes to the Normandy SR-2 Starship! The ship itself becomes a character and you get so attached to it throughout all the Mass Effect games evolving it over time building your crew up in it. Many memories in it. #XboxFreeCodeFriday
@majornelson #xboxfreecodefriday My fav ship is The Stinger Mantis from Star Wars Jedi Fallen Order. The crew is great and all of them being together on the ship between planet travel is soo much fun.